The central province of Quang Ngai is famous for the cultural vestiges of Chau Sa Citadel, Ong and Mai Son pagodas, beautiful landscapes like An Mountain, Thien An Mountain, Tra Khuc River, and Sa Huynh and My Khe beaches. Tourists also have a chance to visit old battlefields with popular names like Ba To, Tra Bong, Ba Gia, Van Tuong and Son My.

1. White Waterfall

The waterfall is situated in Thanh An commune, about 23km southwest of Quang Ngai city, and surrounded by an area of consecutive mountains and hills, as well as painted with green color of trees, so the space is romantic, fresh and quiet. The waterfall is about 40m high with white foam over the rock at the bottom.

The water tumbles over limestone rocks into pools at the foot of the waterfall, then follows the stream of 20m wide, crosses over undulating rock and the valley before meeting other streams.
Onychostoma gerlachi is a kind of fish in the pool at the foot of the waterfall, also a favorite specialty of many tourists.

2. My Khe Beach

My Khe is in Co Luy hamlet, Tinh Khe commune, Son Tinh district, Quang Ngai with 7km long sandy beach.
It is a great crescent moon shaped beach that makes a strong impression with its pristine beauty, quiet and romantic space of floating clouds, whispering waves ...
Near the beach, there are a few quiet fishing villages, nestled on the vast sea, sporadic moored boats. Fishing boats and rustic basket boatslie next to the blue sea and white sandy beach.
3. Sa Huynh Sea
Not only a famous archaeological place of Vietnam and the world with vestiges and antiquities of ancient Champa culture, Sa Huynh is a wonderful sea in the centre of Vietnam.
Sa Huynh is located in Duc Pho district which is 60 kilometers south from Quang Ngai centre, beside1A natural highway. Different from other seas wih white sand, Sa Huynh has shiny yellow sand which is more brilliant and sparkling under the sunlight. Because of its special sand, the sea was originally named Sa Hoang (yellow sand), but this name was nearly the same as Nguyen Hoang king of Nguyen. So people changed this name to Sa Huynh.
Sa Huynh beach looks like a crescent moon, which is 5-6 kms in length. Seeing through the sea water, the sea floor contains sloping yellow sands which are smooth. Having rock attractions such as Chau Me, Monkey island, and peaceful resorts, Sa Huynh becomes a safe and attractive travel destination.
Travelling to Sa Huynh, visitors have chances to see the historical railway located at km 985 near the train station which was built to exploit salt by the French colonists.
Visitors can also contemplate a series of jar tombs and ancient artifacts buried in the ground, the remains of Champa culture discovered by French archaeologists in "Sa Huynh culture" in the beginning of the 20th century.
Sea urchin and king crab are two famous dishes of Sa Huynh sea. King crab is a special kind of crab which is very big, red-brick and weighs up to 1 kilogram each . The crab served with chili salt is a delicious and unforgettable dish.
Moreover, salted sea urchin is another pride of Sa Huynh residents. The local people make them salted for use all year. Being famous through the country, salted sea urchin formerly was a special dish for tribute to the king.
Small and wild fishing village Sa Huynh is now a beautiful town attracting more and more visitors. They come to contemplate the peaceful beauty of ancient culture, the warml and close lifestyle of the local residents, the ancient pottery products and the household items made by local people.
4. Chau Sa Citadel
Chau Sa Citadel is acrampart built by the Cham people from the 9th century to protect the southern part of Tra Kieu capital.
Chau Sa Citadel is located in Tinh Chau commune, Son Tinh district, about 7km from Quang Ngai city to the northeast. The Citadel was built of soil, including internal and external ramparts. Nowadays, there is only 3km fortification with 4m wide, 6m high and a perimeter of 4km.
Researchers also found many artifacts of ancient pottery, Go Pho ancient tower (about 500m from the Chau Sa Citadel)… In 1994, Chau Sa Citadel was recognized as a National Historic-Cultural Vestige.
5. Khe Hai Beach
Khe Hai is located in Binh Thanh commune, Binh Son district. Khe Hai owns a white smooth sandy beach, endless casuarina groves parallel with blue coastline.
The west is Ban Than Mountain stretching from the seashore to the beach and creating a beautiful half of the arc shape while the East is Hon Dong, a small beautiful mountain.
Khe Hai beach is still pristine, so tourists are free to come here to swim, and visit without discomfort.
6. Thien An Mountain
Over 100m high Thien An Mountain mirrors itself in the poetic river of Tra Khuc in such a manner as a heavenly stamp on the river.
Lying on the left bank of Tra Khuc river, east of the Quang Ngai's city, Thien An Mountain is one of the famous beauty spots ranked among Vietnam's famed mountains since the reign of Nguyen Dynasty (1850).
Topping the southwest of Thien An Mountain is the tomb of Huynh Thuc Khang (1876-1947), a famous patriotic scholar and journalist, acting president of the Democratic Republic of Vietnam.
There stands on the top of the mountain an ancient pagoda (Thien An Pagoda) under the shades of trees, built in the reign of Le Dynasty, now remaining as an ancient relic after undergoing numerous repairs.
In the pagoda's yard is an ensemble of the 7 monks' tombs built over centuries, the 20m deep Buddha Well, the Great Bell cast in 1845 (during the reign of Thieu Tri King) by Mr. Tuong Village (Mo Duc), which emits vibrating sounds linked to a legend of a magic bell.
7. Binh Chau Beach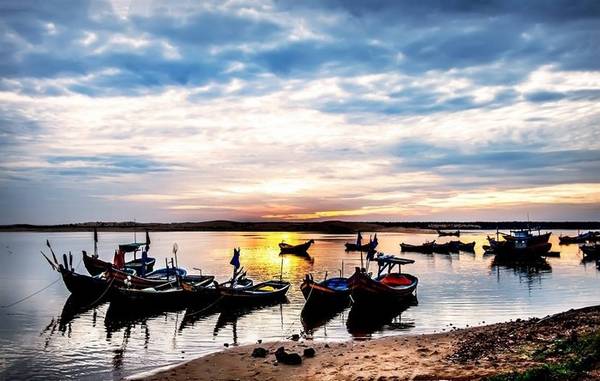 Different from other places with the smooth sandy beach to free swimming, Binh Chau beach is near hidden ruins of a 11 million-year-old inactive volcano creating a special trait for the region.
After a 3-month survey, scientists found "graveyard of sunken ancient ships" at the bottom of the sea, sedimentary rocky island as well as many colorful coral reefs.
8. Ly Son Island
Ly Son Island is a beautiful place not to be missed when you are in Quang Ngai, the remaining vestiges of volcanoes 5 mouths dating back 25-30 million years ago have formed majestic landscapes with lava cliffs in different forms and shapes and pristine beaches with clear water.
Apart from the stunning scenery, Ly Son Island is also known as the kingdom of delicious garlic dishes, and specialties of the region.

9. Thach Ky Dieu Tau

This is a gorgeous spot located to the south of Sa Ky seaport in An Vinh Hamlet, Tinh Ky Commune in Son Tinh District.

The picturesque site used to be among the top 12 landscapes of Quang Ngai extolled by artists in the past but now is in the top two and much loved by locals.

Nearby the cliff there are two huge human footsteps created from various stones and an open-air stone cave. When a wave flows into the cave, water will spray out from a hole beneath the cave that looks like a wine furnace.
According to legend, a giant man carried stones to lock the seaport. But unfortunately, he dropped the last load of stones so it helped create two mountains and his footsteps were left behind.

In particular, tourists will find it interesting to see a black lava block consisting of many diverse stone shapes spreading out to the sea.
According to scientists, thanks to the identity of these stones they can surmise that there was a volcano dated tens of thousands years ago at this location.

As it has cliffs and holes, there are many seafood specialties, among them some tasty fish such as hong, doi, ke and hanh and huynh de crab, sea eel, sea snake and sea urchin.

Coming to the spot, tourists can admire the magnificent landscapes and watch daily activities of local people like children playing in the waves and fishing coracles bubbling on the water surface.


vietnamnet.vn