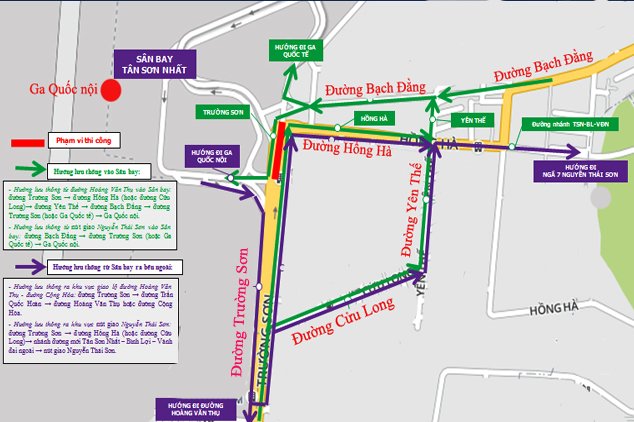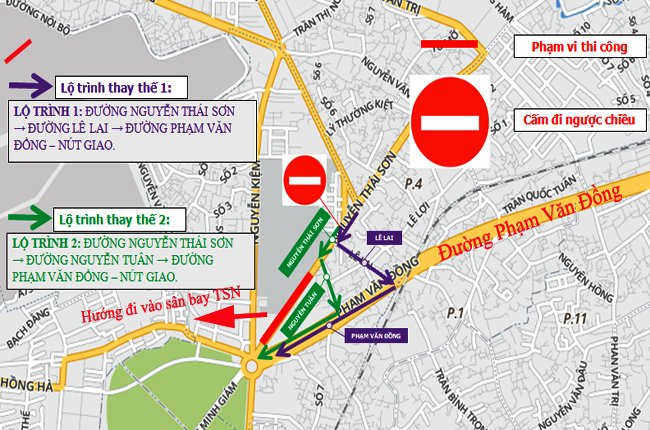 A number of streets around Tan Son Nhat International Airport in Ho Chi Minh City are set to be re-routed to make way for the construction of two traffic-easing overpasses.
Construction on the two overpasses, planned for the Truong Son – Tan Son Nhat – Binh Loi – Outer Ring Road intersection and the Nguyen Kiem – Nguyen Thai Son roundabout, began earlier this month.
Starting Saturday, vehicles traveling through these two construction areas will be re-directed to allow for smoother traffic flow in and out of the southern hub's airport, according to Ho Chi Minh City Urban Traffic Management Zone 1.
To ease congestion in the area, the section of Yen The Street flanked by Hong Ha and Bach Dang Streets will only open to one-way traffic traveling from Hong Ha to Bach Dang.
Traffic approaching Tan Son Nhat Airport via Truong Son Street will be required to make a short detour through Hong Ha – Yen The – Bach Dang – Truong Son Streets to avoid the construction.
Vehicles approaching the airport from the Nguyen Thai Son – Nguyen Kiem roundabout will also be redirected to Bach Dang Street in order to access the airport's domestic and international terminals.
The planned detour for those exiting the airport will follow either Truong Son – Tran Quoc Hoan – Hoang Van Thu or Cong Hoa Streets, or Hong Ha Street to the Nguyen Thai Son – Nguyen Kiem roundabout.
The section of Nguyen Thai Son Street between the roundabout and Pham Ngu Lao Street will also be limited to one-way traffic, and vehicles approaching the roundabout on Nguyen Thai Son Street will be forced to turn left at either Le Lai or Nguyen Tuan Street to reach Pham Van Dong Boulevard.
Traffic police will be deployed near the construction sites to direct vehicles onto the new routes and penalize parked taxis causing congestion near the front of the airport.
VNS
Compiled by Minh Nguyen