VietNamNet Bridge - Ba Vi National Park, only 60km to the west of Hanoi, has spectacular natural landscapes and scenery.
The total area of Ba Vi National Park is 11,372 hectares, of which primary forest accounts for 2,752 hectares. Located at an altitude of 100 – 1,296m of Ba Vi mountains with tropical and subtropical typical plants, the park is green all year round.
Ba Vi National Park is not only known as the lungs of Hanoi, but also the home to hundreds of wildlife species, and many rare and precious species listed in the Red Book of Vietnam.
According to scientists, the park has 812 species of vascular plants, belonging to 427 genera and 136 classes, including 15 rare species.
It also has 45 mammal species, 115 bird species, 27 amphibians species, 61 reptile species, 86 insect species, including 23 rare and precious species in the Red Book, such as large loris, Asiatic black bear, pangolin, white pheasants, monkeys, leopards, bears, flying squirrels.
Visiting Ba Vi National Park, visitors can explore deep caves hidden in the mountains, or stop at an altitude of 800m to see an orchid garden and find relics of the fight against the French colonialists such as ancient church, orphanage, motels of senior French officials, etc.
Standing at the top of the mountain, tourists can see clouds, mountains, valleys, rivers and lakes. Especially on sunny days, they will see a panoramic view of Hanoi, with modern high-rises in the center.
At nightfall, Ba Vi National Forest turns into another season, when it is covered in black, with the sound of insects, and howling of gibbons.
Tourists can spend a night camping in the forest or in guesthouses. It is interesting to enjoy a fun night stay in a guest house full of stars here and enjoy specialties of the forest.
Let's visit the national park through pictures: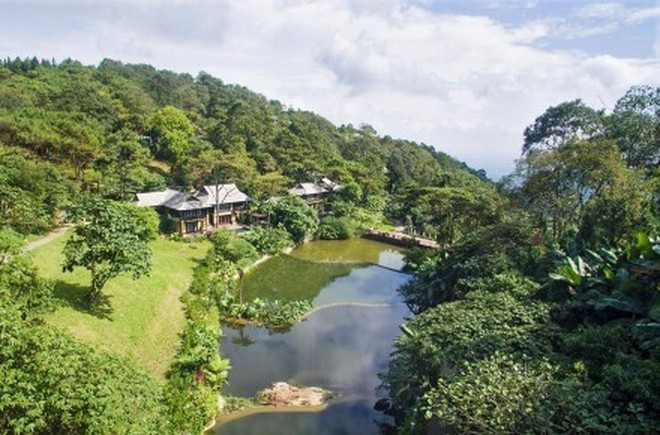 Ruins of the French colonial period in Ba Vi





Compiled by Pha Le