Waterways and Cultural – Historical Relics Tourism
Binh Thuy is famous not only for its various cultural-historical relics but also for the network of interwoven rivers and orchards laden with fruits, which makes up the unique path for exciting discoveries. To fully enjoy all this beauty, you should have a try with a waterways tour including visits to the historical-cultural relics.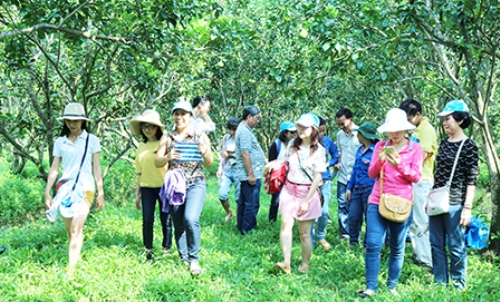 Tourists visiting fruit gardens in Son Island, Binh Thuy District.
* Experience the culture on water ...
From the ditches namely Muong Khai, Pho Tho or Long Ong, you can travel by motored boats and enjoy the charming river landscape of Binh Thuy District. Both sides of the river are green trees and ornamental flower gardens which form the featured and charismatic pictures of the rivers. Ba Cong Orchard (Binh Pho B of Long Tuyen Ward) is an indispensable stop. The garden of 2.3 hectares has all kinds of fruit: dragon fruit, rambutan, green grapefruit, mangosteen, mango ... After a walk around the garden, you can both enjoy the fruits and chat with the garden owners about crops or tourism.
Not far from Ba Cong Orchard is an area of making traditional toys (Binh Thuong B area). This is a place full of featured traditional culture due to many families living on making colorful traditional toys. They are popular animals in Vietnam such as turtles, chickens, pigs, crocodiles, buffaloes, mice .... Here, you can learn the sophisticated and precise stages of making toys and try making them in your style. Mr. Nguyen Van Truyen, one of 10 households living as a folk toy manufacturers here, says, "Many visitors at first feel shy, yet after only 5-7 minutes they feel more confident in making a toy as a souvenir to bring back home." This village of traditional trade has existed for more than 20 years, but known by tourists for over 2 months now.
If you want to explore the lives of residents of waterways, you can follow Mr. Nguyen Ngoc Van (Binh Thuong Area) to lift the "do" (a fishing tool in the river) along Pho Tho Ditch. You yourself can catch fish like catfish, goby, … and then cook them into the rustic dishes: sour soup, fried fish, fish cooked with fish sauce….Sitting at a windy place surrounded by green trees, you can enjoy a hot meal in a rustic style of the south on the waterways. Pho Tho – Ba Bo Ditch (Long Hoa and Long Tuyen District) is well known for beautiful flower gardens of more than 80 years old. In the past, you could only watch the flowers, but now you can try growing flowers in the garden of Mr. Huynh Thanh Can (Binh Pho Area, Long Tuyen Ward). Here, he plants many new flower varieties applying hi-tech engineering. You are instructed carefully how to plant flowers from preparing land, making baskets to caring flowers ... Near Long Ong Ditch is the traditional bakery of Mr. Du Van Sai, also known Mr. Tam Sai (Binh Thuong B, Long Tuyen Ward). At this place, you can try making sticky cakes, Tat nien cake. Tat nien cake is known and made by Mr. Sai's family only. You will be told how to make the cake which you will soon enjoy by yourselves at spot.
You can follow the road along the ditch of Nga Bat – Bo Dau and stop by the garden of purple star apples owned by Mr. Mr. Nguyen Van Khuong, who is also known as Bay Khuong (255/10, Binh Thuong B, Long Tuyen Ward). You can also pay a visit to other places such as Long Tuyen Agricultural Cooperative – a famous production model of organic vegetables in Can Tho City; Ut Chau's house of making spring rolls; Nguyen Van Thi's house of producing fine rice noodles (252/10, Binh Thuong B, Long Tuyen Ward). You can try the experience of being a farmer, a baker in Son Islet, etc.
*…to explore the space of ancient village - cultural-historical relics
In the past, tours on waterways of Binh Thuy were not promoted because of the shallow riverbed, so boats could only move across a few sections. Recently, the People's Committee of Can Tho City has deployed projects of dredging along the Pho Tho-Long Ong Canal, unclogging multiple flows, creating more attractive sightseeing routes associated with relics: the Orchid Garden Ancient House, Binh Thuy Communal House, Nam Nha Pagoda, etc.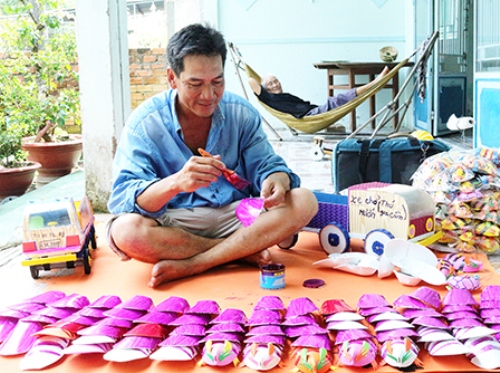 Making traditional children toys at Mr. Nguyen Van Truyen's house
From Nga Bat Canal, you can visit Vuon Man Cultural-historical Relic and turn into Bo Dau Canal to discover gardens, cake-making village, etc. Moreover, you can move along the Pho Tho Canal to the Pho Tho traditional market (Binh Pho A Area, Long Tuyen Ward) to mix yourselves in the idyllic life of local residents, and then go along the Ong Doi-Pho-Cam-Chanh Canal to visit The Duongs' Ancient House (Bui Huu Nghia Street, Binh Thuy Ward), which is also known as the Orchid Garden Ancient House – one of the famous relics of Binh Thuy District built in 1870. This house has a harmonious combination of East and West architecture. The Duongs' Ancient House also attracts tourists with numerous antiquities that have been conserved for over 100 years.
The ancient atmosphere of Binh Thuy also impresses tourists with other ancient buildings such as Binh Thuy Market (Bui Huu Nghia Street, Binh Thuy Ward) which has been busy from the past linked to the history of Long Tuyen ancient village, the first row of old houses at the top of the market, etc. A few hundred meters apart from the Orchid Garden Ancient House is the Binh Thuy Communal House, a building of faiths-arts closely associated with the formation of Binh Thuy. If you come here on the occasion of Ky Yen Thuong Dien Holiday (from 12 to 14 April of lunar calendar), Ky Yen Ha Dien Holiday (14, 15 December of lunar calendar), you will completely feel the unique beauty of the wet rice civilization of the South. Opposite the communal house, on the other side of the river bank is the pensive, ancient Nam Nha Pagoda.
Ms. Le Thi Be Bay, Deputy Head of Culture and Information Chamber of Binh Thuy District, said, "Based on natural conditions, history, culture ... the district has done research to offer tourism products with our typical features while promoting the strengths of rusticity and relics in Binh Thuy so as to create multiple tours/routes for tourists to have different options. These waterways tours are mounting all types of experiences: ecological gardens, craft villages, cuisine and relics exploration."
Binh Thuy is becoming the favorite destination with unique waterways followed the development orientation of the city tourism. Currently, the city tourism industry is working on the project "Development of particular tourist products (waterways)" to offer more interesting products to attract tourists.
Source: Can Tho Newspaper - Translated by Ngoc Diep