The Mekong Delta's Taste in Hủ tiếu hấp - Steamed Rice Noodle
The Mekong Delta's cuisine is famous for its rich and diverse culinary culture. Such dishes like pork-stuffed fried cake, pancake, rice noodles in fermented fish soup, fish noodle soup and so on are familiar to the South westerners' and they have long been favored by people in Saigon and all over the world.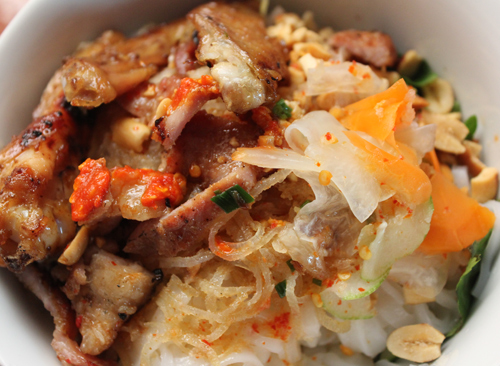 The Southwestern people usually have this tasty steamed rice noodle for breakfast. This popopular dish originated from Phnom Penh (Cambodia). However, when introduced and integrated into the Mekong Delta, it has been varied in many ways to become a delicious, diverse and tempting dish.
The ingredients for steamed rice noodle are chosen from fresh rice noodle strips that are strong and soft. The strips for one serve are torn into smaller and shorter ones and then put into a steamer to be steamed. It is advisable not to steam too many strips at a time because this cannot make the dish hot enough to be delicious as expected. This dish is suitable for breakfast.
Steam rice noodle is served with bì trộn thính (thinly shredded pork skin and powdered toasted rice), julienned lean meat, fried spring rolls or grilled meat, meatballs, or sometimes grilled chicken with pineapple, cucumber, bean sprout, and some basil, grease and green onion, minced chili, etc. Particularly, the fish sauce served together with this dish must be cooked and carefully mixed with refined sugar, lemon juice and minced garlic and chili .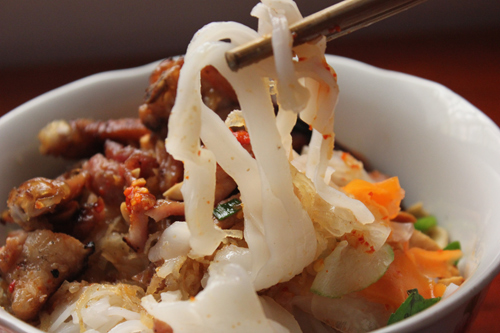 On a dish, steamed rice noodle is covered by thinly shredded pork skin, a slice of grilled pork, some basil, and chopped cucumber on the top, added a little fish sauce and scented roasted peanuts. Depending on your taste, you can add more fish sauce into the dish, mix it thoroughly and then enjoy it. This special dish can be one fascinating option for your breakfast in the morning.
The dish is pretty popularly in Ha TienTown ( at number 41, Phuong Thanh Street, Ha Tien), Kien Giang Province, Thot Not Market in Can Tho City or Chau Doc Market in An Giang Province, etc. However, it is rarely served in restaurants and big eateries. If you have a chance to travel to these places, remember to enjoy it!
Source: ngoisao
Translated by: Ngoc Diep - CTU