Quietly Pass the Trade of Making Non la (Conical Hats) through Generations in Can Tho City
Non la - conical hats - has become much closer to the people of the South for ages. Through the ups and downs of life, they are not only used for preventing the locals from the sun, the rain, but are also the national unique charming feature. Therefore, people are quietly preserving the skill of making Non la in some traditional trade villages.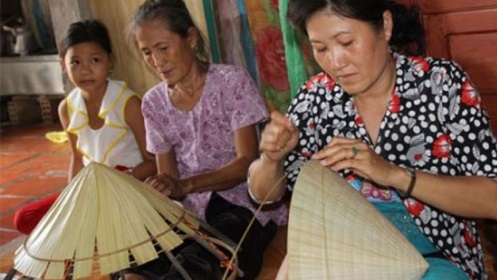 One-time Fame
We have just arrived at a small village situated along Xeo Xao Canal (Thoi Thuan A Village, Thoi Lai Town, Thoi Lai District, Can Tho City) to meet the skillful and dedicated women who have been making Non la renowned throughout the western south of Vietnam.
Ms. Ho Thi Dien with more than 50 years of experience in making Non la told us that no one in this neighborhood knows the exact time when the trade started, yet it has been passed from generation to generation up to now. "At the age of 10, I knew how to sew the leaves to make Non la in helping my mother to earn a living. This job is not hard, yet it requires the makers a lot of skills and dedication to produce a beautiful hat," added Ms. Dien. Products made at that time used to be famous throughout the region, sold in many places from Sa Dec, Tan An, to Ca Mau ... . They were widely known as "Non la Can Tho (Can Tho Conical Hats.)"
Initially, making Non la was considered as extra work to earn additional income for the women when they had free time after the rice harvest. However, in time of bad harvests, this trade helped them earn enough for their living and then has generally become the main job in the village. In addition to women, young people and children are learning how to make Non la in their free time. Ms. Dien added, "Non la at Xeo Xao, Can Tho used to be so much in demand that sellers paid us in advance and we had money to spend for our daily expenses; then we would make Non la to send them later."
Skillful hands making Non la at Xeo Xao, Can Tho
One of the features which makes people like Non la Can Tho is its being smooth and durable. Ms. Dien said that there were two kinds of Non la: one for farmers working on the farms and the other for people to go to the market. Non la for farmers working on the farm has bigger brims and is thick and durable. The other kind for people going shopping is beautiful and elaborate since its stems are carefully selected and sewn. The hat for people going shopping is three times as expensive as the one for farmers working on the farm. Therefore, skilled makers in the area often choose to make the hats for people going shopping.
Making a hat is a long process with many different stages from framing, polishing rims, knitting leaves, sewing them ... All require much ingenuity and care. Hats are often made of arecaceae leaves or white leaves; the brims are made from carefully sharpened bamboos. At first, Non la Can Tho was made from 15 brims. However, due to the influence of Hue style one, it was changed into the one with 16 brims. Brimmed hat are tied together over the central core, then the hat makers will start thatching with two layers of leaves.
The maker will both sew and keep the leaves in order. The sewing thread is carefully chosen to meet the requirements of being durable, strong, soft and thin. The finished hats will be covered with a layer of varnish mixed with petroleum for better waterproof, durability and shining. Depending on the distance of the needles, thin hats can be distinguished from the thick ones. People choose to buy a beautiful hat based on its durability, knitting density and brim size.
Ms. Dien added that a hat made by skilled craftsmen is sold three to five times as expensive as an ordinary cone (estimated at 60,000 - 70,000 VND/hat).
Preserving the soul of Vietnamese Non la
The family of Ms. Ho Thi Dung (Ms. Dien's sister), Pham Thi White are considered as the most beautiful hat makers in this neighborhood. Even the most choosy customers must compliment their hats, "Non la Can Tho must be like these" and are willing to spend a lot of money to buy them. Ms. Dung said that she has been invited to perform how to make Non la in many occasions to promote the trade of making conical hats. These are times when Ms. Dung, Ms Trang feel so proud and happy..
However, their fame just ends at the stage of product making. It is very difficult to sell the hats nowadays because the demand for Non la has decreased and thus its price has also dropped greatly. Ms. Dung said, "In this village, there are many hat makers, but not many get rich with this trade. They feel lucky if they can earn enough for their daily expenses." In fact, those skilled hat makers like Ms. Trang, Ms. Dung can make only two hats. After deducting all costs, there is only a few dozen thousand left as interest.
Thoi Thuan A Village has about 150 households producing conical hats making up 50% of total households. To provide work for idle labor and to preserve the traditional trade, the local authorities and women associations at all levels often offer conical hat making classes for unskilled labor. These classes are also to evoke the locals'passion and love for the trade. There are regular programs for capital support, tool provision to hat makers in order to maintain the conical craft. In fact, the insufficient income of the job has made many people seek other jobs for better earning.
Ms. Dien said, "Although my children have gone to school, got stable jobs, I still teach them how to make Non la, keeping the traditional craft since this is the career with which I have brought them up." Her saying remains in our mind for a long time. Though making hats is not a preferred profession any longer, women like Ms. Trang, Ms. Dung have maintained meticulous and passionate craftsmanship because they wish to protect the traditional trade which has created the significant feature of the Southern people.
Source: Nhân Dân Newspaper - Translated by Ngoc Diep