Luscious and fragrant Bun Ca (rice noodles and fish) in Can Tho City
Bun Ca (rice noodles and fish) is a famous dish in the Southwest of Vietnam, especially in An Giang Province and Kien Giang Province. But in Can Tho, Bun Ca (rice noodles and fish) has its own feature – Its luscious and fragrant taste will imprint in your mind forever when you have ever tried the dish.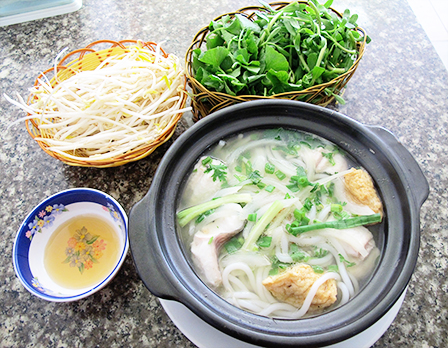 In An Giang Province, Bun Ca (rice noodles and fish) often has a distinctive saffron, small noodles, flavor with strong spices from lemon grass, fragrant knotweed, while this dish of Can Tho has clear broth, without fat, so its favor becomes softened. This difference stems from the secret tip of cooking broth. Broth is cooked by boiling chicken bones, pork bones and some vegetables such as radish, pear, apple, sugar cane, mushrooms ... , all of which make it clear and naturally sweet. For a tasty Bun Ca (rice vermicelli and fish), main ingredient must be very fresh fish. Typically, in Can Tho, snakehead fish and Thac Lac Fish are commonly used because they taste sweet and have certain toughness. After cleaning, snakehead fish is just cooked, then all fish bones are removed. In case of Thac Lac Fish, it will be scraped, added some spice, crushed until it turns to be tough, then cut into average cubes for frying.
Another special feature is that Bun Ca in Can Tho is often served in a small bowl. Big and tough rice noodles made in O Mon District are put inside the bowl, covered by slices of white fish fillet, golden fried fish, onion, cilantro green in clear broth. The smoking bowl of Bun Ca spreads its fragrance here and there. Fish is served with bitter herbs, pennywort, bean sprouts and fish sauce. Many people can't enjoy the dish without lavishly complimenting its harmonious taste combination: the sweetness of broth and fatty fish, fried fish cubes mixed with the slightly bitter of herbs, the distinctive aroma of pennywort.
There are many food stalls selling Bun Ca in Can Tho City. However, if you wish to enjoy the true taste of Bun Ca, many gourmets usually go to Co Be Shop (65 Dinh Tien Hoang Street).
Source: Can Tho Newspaper - Translated by Truong Thi Ngoc Diep