HCM City to begin first river bus route in June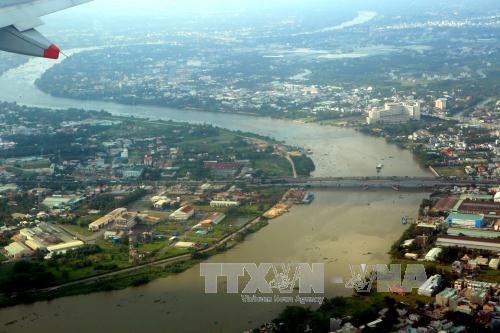 River systems in HCM City. — Photo Huy Hùng

HCM City People's Committee has called on departments of transport, natural resources and environment and district-level People's Committees to facilitate the city's first two river bus routes.
The investor, Thường Nhật Co. Ltd., plans to open the two river bus routes in June.
Chairman of the People's Committee Nguyễn Thành Phong asked officials to hand over piers for the investor to use as river bus stations by April 10.
Bình Triệu Pier in Thủ Đức District's Hiệp Bình Chánh Ward and Vườn Kiểng Pier in District 1 have not yet been handed over to the investor.
The committee also approved three more river bus stations in the Thủ Thiêm urban area, Thủ Đức District's Trường Thọ Ward and Tân Cảng Port.
Two more river bus routes have been approved, including route No.3 from Bạch Đằng Wharf to Mũi Đèn Đỏ in District 7 and route No.4 from Bạch Đằng Wharf to Phú Mỹ Hưng in District 7.
The committee approved proposed ticket fares of VNĐ15,000 (US$0.7) per person.
By 2020, the investor will supply 10 boats that can accommodate 60 people on the two routes.
The project, built under a BOO (Build-Own-Operate) model, will cost a total of VNĐ125 billion (US$5.53 million).
The first 11-kilometre route from Bạch Đằng Wharf in District 1 to Linh Đông Ward in Thủ Đức District will have seven bus stations.
The second route, 10.3 kilometres from Bạch Đằng Wharf to Lò Gốm Port in District 6, will also include seven stops.
As operated, the river bus routes will link with overland bus routes, making it convenient for passengers to travel around the city.
The river buses are expected to reduce road traffic pressure as well as boost river tourism in the city.
Source: Vietnam News