HCM City district to get a 'jewellery street'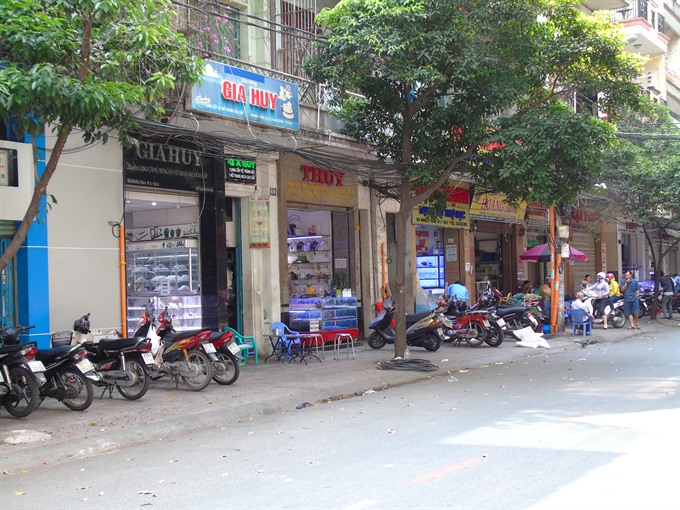 Bling bling: Nhiêu Tâm Street in HCM City's District 5 is home to many old jewellery and gem shops. — VNS Photo Anh Vũ
District 5 in HCM City will honour its venerable goldsmithing tradition by converting Nhiêu Tâm and Nghĩa Thục streets into a so-called jewellery street.
When it is inaugurated on April 27 visitors will not only be able to buy jewels and gemstones there but also learn about the process of making them.
The area has for long been a place for selling jewellery-making equipment and tools.
According to the District 5 People's Committee, as long ago as in the late 1980s some households on Nhiêu Tâm Street had started making and selling silver and gold jewels and gems. The craft quickly grew and spread to adjacent streets like Nghĩa Thục and Bùi Hữu Nghĩa.
Nguyễn Võ Xuân Kỳ, chief of the committee office, told Người Lao Động (Labourer) newspaper that besides the commercial benefits the jewellery street would bring to the district it would help preserve the cultural heritage of old Sài Gòn – Chợ Lớn's goldsmiths and silversmiths.
The area also has some spiritual destinations like Vạn Phật Temple and Lệ Châu Congregation where the ancestors of goldsmiths are worshipped.
Kỳ said travel agencies like Saigontourist, Bến Thành Tourist and Vietravel operate one-day tours of District 5, and the jewellery street would become another stop for tourists.
Earlier the People's Committee had sought the opinions of jewellery store owners in the area, and they mostly welcomed the idea.
Many stores can now be seen redecorating to attract customers. According to Người Lao Động, jewellery shops in places as far away as Bình Dương, Đồng Nai and Bà Rịa – Vũng Tàu provinces are looking to rent places in the street to open stores.
District authorities plan to design a common logo for the gem and jewellery shops there.
Lê Thị Loan, head of the district's economy bureau, said work to upgrade the vicinity has begun, and there are plans to build parking lots, especially for buses.
Lê Thị Ngọc Dung, People's Committee chairwoman of the district's Ward 5, said to ensure security and order, CCTVs have been installed on the street and security guards posted.
The public can send feedback to her if they are unsatisfied with the service at any jewellery shop, she added.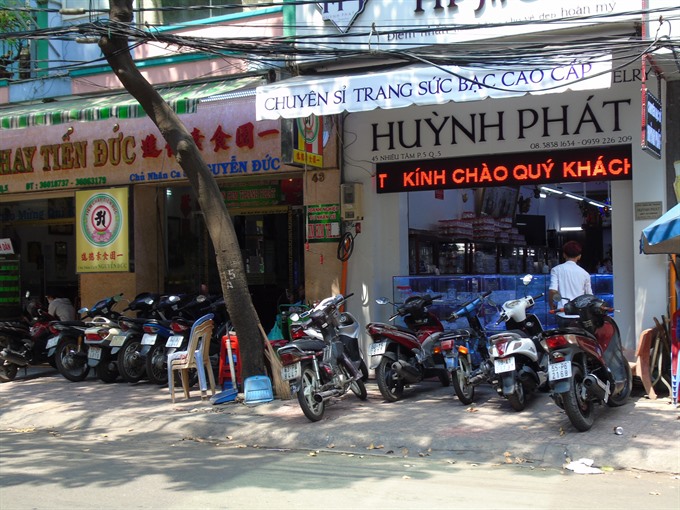 Iced out: Nhiêu Tâm Street in HCM City's District 5 is home to many old jewellery and gem shops. — VNS Photo Anh Vũ
Compiled by Nguyen Hung Minh