Duck Braised Noodles – Can Tho Good Food
Duck braised noodles is an age-old dish in Can Tho, which is preferred by many people. This dish includes many spices, especially medicinal herbs, which make it has a light sweet and a strange taste.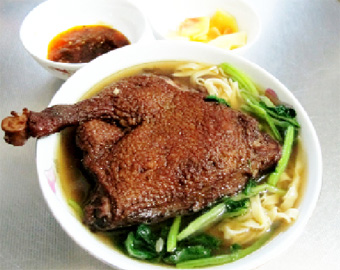 To make the duck braised noodles tasty, the cook usually chooses musk ducks, because they have firm meat. After cleaning the duck, people usually rub it with white wine to reduce the fishy smell; then, marinate with spices as salt, glutamate, pepper,... and add a little soy sauce and honey to make color. The duck can be cut into four or preserved whole body, depending on the cook. When the duck meat imbibes the spices, it is fried to make the skin turn into a golden color and crispy.
The soup is making in a special way with many spices. This dish originates in China, so it contains some specific spices, such as jujubes, gingko, clove, shiitake mushroom, cinnamon, dried tangerine skin,... These spices are preliminarily processed, roasted until having flavor; then, taken out and stored in a tied cloth bag. The fried duck meat is added into pig bones soup and braised until softening. The cook also adds grilled ginger together with the bag containing spices into the soup to make special flavor, and finally is to marinate to taste.
The duck braised noodles should be served with choy or loopbah. After washing, choy is cut into pieces, and boiled; then, it is taken out and put into cold water to keep its color. Duck braised noodles is presented attractively with shining yellow noodles, golden duck meat, and green vegetables. Duck meat is soft, sweet; the soup tastes special. To make the dish more delicious and avoid losing appetite due to the greasy, some places also serve with papaya salad which is crispy and have sour and sweet taste.
Duck braised noodles is a popular dish in Can Tho, visitors can enjoy this dish in some streets, such as Phan Dinh Phung street, Thu Khoa Huan street, De Tham street, Nguyen Khuyen street,...
Source: Can Tho Newspaper, Translated by Vo Phuong Quyen