Central city debuts five-star river cruise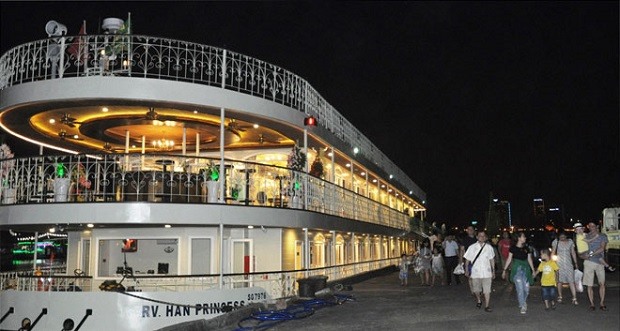 Riverboat rambler: Hàn Đà Nẵng Princess cruise ship docks at Hàn River port for a night river tour. — VNS Photo Thanh Tịnh

ĐÀ NẴNG — The central city has launched Hàn Đà Nẵng Princess, a five-star cruise ship offering tours of the Hàn River.
The city's culture, sports and tourism department said the cruise ship, built in HCM City, has three decks with full recreational facilities and diving services for 198 passengers.
The ship, which was built with total investment of VNĐ50 billion (US$2.2 million), offers days and nights tours along the Hàn River.
The city has given licences for 29 boats for carrying tourists in the Hàn River.
In 2015, the city also debuted the first five-star cruise ship, Harem2.
According to the department, nearly 300,000 tourists, of which 90,000 are foreigners, booked tours and accommodation in the city for the four-day holiday (from April 29 to May 2), a 30 per cent increase compared with last year.
Four and five-star hotels were up to 80-85 per cent of capacity during the May Day holidays.
Compiled by Nguyen Hung Minh
VNS