Cai Rang Floating Market Festival: A Highlight in Can Tho Tourism
Cai Rang Floating Market Festival is the first time to be held on July 8-9. It is planned to be held every year in order to preserve the featured cultural identity of the people in the South West waterways region. Also, this annual festival can help provide a tourism highlight so as to attract more visitors to Can Tho City.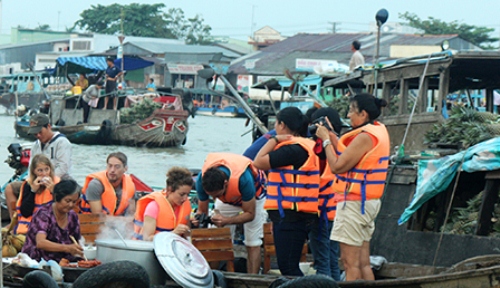 Enjoying local food on boats_ a wonderful experience for tourists at Cai Rang Floating Market.
Various Activities
Cai Rang Floating Market Festival is held as part of activities in response to Viet Nam Tourism Day (July 9th), to promote Cai Rang Floating Market as it is recognized as the national intangible heritage by the Ministry of Culture, Sports and Tourism. Also, this event helps highlight Can Tho City on the tourism map in Viet Nam, which will create favorable conditions for tourism agencies to cooperate well for better tours and thus attract more tourists.
Cai Rang Floating Market is a tourism product typical for not only Can Tho but also the Mekong Delta, which will be honoured via vaours actitivies: a photo display on 'The Beauty of Cai Rang Floating Market', a boat parade, a model boat display, a fruit and cuisine display, a fruit carving contest, amateur music performances and the Mekong Delta composite boat competition. The highlight of the festival is the opening ceremony where the city will receive a certificate in recognition of the Cai Rang Floating Market as a national intangible cultural heritage and where amateur music is performed on water. It will be held in the center of Cai Rang Floating Market on July 9th. Before that, the parade of more than 20 boats and ships departing from Ninh Kieu Quay to the market will help make the festival bustling and hustling.
The festival is mainly on Vo Tanh Street, Yen Thuan Area, Le Binh Ward, Cai Rang District. It features a photo display of typical waterways lifestyle, booths of tourism promotion, fruit carving and cuisine display ... throughout the day from 8 a.m during two days (July 8 and 9th). In addition, there are 32 booths providing tourism information of Cai Rang and other places in the city. Especially, it will model some traditional villages such as mat weaving, basketry, water hyacinth weaving...
The artisans will demonstrate and instruct visitors how to practice the trades. Here, visitors can try the local specialties such as grilled meat paste, duck rice noodles, shrimp spring rolls etc. They can also enjoy distinctive art works made of fruits. Visitors can easily choose any product from the two retail sections on land and on water. Mr. Bui Huu Sang, Director of Cai Rang Culture and Information Department, said: "Apart from the above activities, amateur music performances will be a special point in this festival programme. During the day, three different bands will take turns to perform amateur music on boats at the floating market. In addition, in the evening of July 8th, from 18:00 to 21:00, an amateur music exchange will be organized at the main stage."
There will be the Mekong Delta composite boat competition of more than 20 teams. The teams will compete against one another at 9:00 on July 9th at Area 6 (near Cai Rang Bridge, Hung Thanh Ward, Cai Rang District.
Get Ready
All preparations for the festival are nearly made. Can Tho Department of Culture, Sports and Tourism, Cai Rang People's Committee and other related authorities have closely cooperated to ensure that the festival will be safe and well - organized. Each activity has been planned and assigned to certain organization or agency. Mr. Le Minh Son, Deputy Director of Can Tho Department of Culture, Sports and Tourism, said: " We have assigned the 7 activities for which we are responsible to relevant agencies to ensure everything to be implemented as scheduled. The opening ceremony, musical performances, sports competitions, boat parades… have been carefully programmed. Now, we are all ready for the event."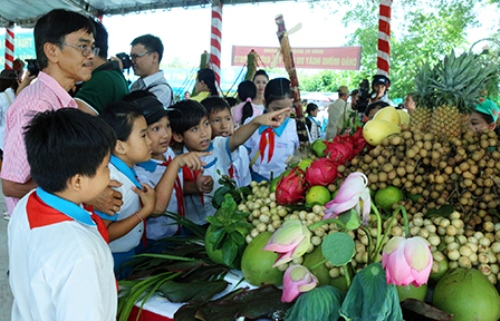 Art works made from fruits attract lots of tourists.
Cai Rang District has accelerated the remove of Song Hau Farm Warehouse and and the cleaning up in this area where the main stage will be set up. The booth installation is planned to be completed on July 4th. In addition, traffic routes will be separated to ensure safe travelling for all tourists to this place. Food and fruit on sale in the festival will be selected from prestigious manufacturers who ensure their product safety and prices. Because this is the first time for an event to be held on water, the safety is on top priority. The organizers have plans for safety and emergency support when necessary. Much attention is paid on how to ensure the security, the food safety and to avoid overcharging the customers.
Mr. Le Van Tam, Permanent Vice Chairman of Can Tho People's Committee, emphasized: " This festival will be our annual event, so careful preparation and gradual upgrading should be done so as to create more featured activities to attract visitors to Can Tho City. The organizers have to focus on introducing the local specialties, especially the famers' organic products to the visitors, ensuring the security and food safety, and publicizing service prices.
Source: Can Tho Newspaper - Translated by Ngoc Diep